Credit or debit card payments are made via the booking system (please see the Booking Manual for the necessary steps). Usually, the best and cheapest way for you to pay is via credit card in our online system. Once you have moved in, payments can only be made within 14 days of the next payment deadline.
A service payment provider company  supply the online payment option. In some rare cases, you are charged a percentage of the amount you are paying when making a payment using a credit or debit card. This amount is not paid to us, but is paid directly to the service payment provider company.
NB: It is not possible to use American Express when you make your payments.
Paying by card is easiest — but some credit cards will incur extra charges
The charges for cards are automatically added to the amount you have selected to pay to the Housing Foundation whenever you are using the online payment option. The amount paid to  the payment service provider. The payment service provider will not appear in your Account Status page on your flow, as it is not paid to the Housing Foundation – it will only appear in your credit card statement.
Saving costs: Online payment versus bank transfer
When paying via bank transfer, we charge a fee for "reception of a payment via bank transfer".
Therefore, in most cases the cheapest way for you to make a payment is by paying online in your workflow with a credit card. However, it depends on how much you are paying – in some cases it will actually be cheaper for you to make a bank transfer (please see the following image).

In order for you to avoid paying fees when we are returning your deposit, it is important that you make sure your credit card is valid up to 6 months after your contract end date. The deposit will be returned to the latest used credit cards. Please have that in mind when making the last payment of your stay. Read more about deposit returns here.
Checklist: proceeding payment online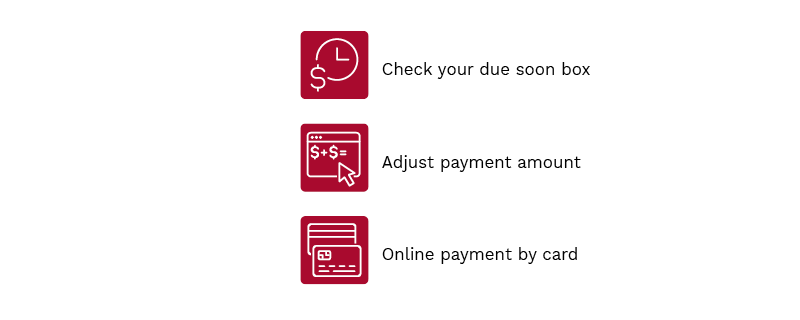 Problems when paying via credit or debit card
If you get an error message when you try to make a payment online using a credit or debit card, there are several options:
Error message: "Order number already used"–this error you can easily sort out yourself:
Make sure you're using a PC or a MAC (not a tablet or a phone)
Please use Google Chrome as your browser (as stated in the Booking Manual)
Click on the account step again
Then click "SAVE". By doing this, you reload the Account step under the Payment step.
Now try again, and the error should disappear.
Error message: "Payment took too long, you have to close the window and try again" or "Payment failed".
This error does not come from our payment system. It occurs when something in the payment goes wrong. Most often it is a problem with your credit card provider or bank. You can try to click on the account step again and then click "SAVE". By doing this you reload the Payment flow step. If the error is still there after reloading the step, please contact your bank or credit card provider to find a solution. It may indicate that you have a set payment limit on your card, or your bank may refuse to transfer to a foreign account, or your card simply isn't valid for making online payments.
If payment online via credit card does not work for you, you always have the option of paying via bank transfer.
If you experience other problems paying online please click here.
If you pay via bank transfer, the Housing Foundation charges a fee. Remember to add this fee to your payment. You can find our fee list here
To make an international bank transfer, you need to indicate our SWIFT code and IBAN number, and name the Housing Foundation as the beneficiary. You must provide your tenant ID, otherwise we can't trace the payment to you and confirm receipt.
If we need to transfer money to you, please provided us with your SWIFT and IBAN numbers, which you can get from your bank.
Bank account details for the Housing Foundation
Bank: Danske Bank
Registration number: 4180
Account number: 10364183
IBAN: DK9530000010364183 (BIC) / SWIFT: DABADKKK
Account holder: Housing Foundation
Bank Address
Danske Bank
Erhvervscenter København
Holbergsgade 2
1057 Copenhagen K
Time frame for bank transfer
Please be aware that the transfer procedure might take several days; so make sure you take care of everything well in advance so we have the payment in time. Making an international money transfer can be costly since the involved banks often add extra fees. You are responsible for paying these.
Please send a receipt to [email protected] if it is close to your payment due date to
Checklist: proceeding payment via bank transfer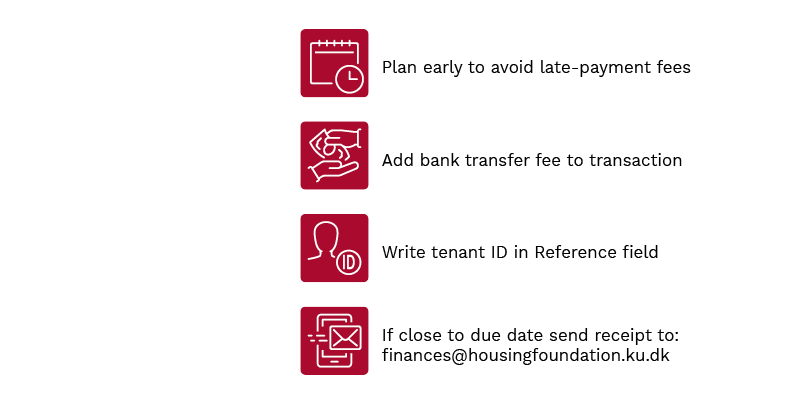 Payment via Mobile Pay – an option if you have a Danish bank account
Mobile Pay is an app which can be downloaded from App Store / Google Play / Windows Phone Store – it is free of charge to download.
You can read more about the app, which was developed by Danske Bank in 2013.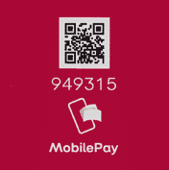 How do I do it?
Download the application "Mobile Pay" on your smartphone or tablet and follow the installation instructions.
Open the app and enter the amount you wish to pay.
Click "vælg modtager" (="choose recipient") and enter our number:  (+45) 94 93 15. 
Enter your tenant ID (5 digit number) in the message field, so we know who sent us the money. Swipe right to transfer the money. A receipt will then appear on your screen. The receipt can always be found in your Mobile Pay app later, if needed.
Please check the list of fee here.
Limit on transactions when using Mobile Pay
As a standard setting, the transaction limit will be DKK 2.000 per day. This limit can be increased by going to settings in the app – you will need your NEM-ID to change the limit (please ask your bank for further information).
Checklist: proceeding payment via MobilePay