You are responsible for your room during your stay. If you experience any problems, you can contact the inspectors of the Housing Foundation. Their contact information is found on our accommodation descriptions.   
If there is any kind of pests, please report to the Housing Foundation immediately for further help. We take situations like this very seriously and professional help will be provided. An unclean residence can develop into a serious health hazard. Pests come about because of lack of hygiene, leftovers in the garbage, etc. In seldom cases, you can be charged for the pests if the cause is traced back to you.
If there are scheduled repairs and the issue still persists, please inform us immediately. Please do not wait some days/weeks. We believe that issues are solved once a repair is scheduled, unless someone notifies us to the contrary. We have a significant amount of housing so we would have no other way of knowing without your report.
We have collected a list of typical damages and how to avoid them. See it here.
If you have made a booking at Dyrlægevej, Rebslagervej or Vendsysselvej you have access to a storage room. There are no storage rooms at the other accommodations.
The storage room is included in the rental contract and covered by your rent. That means you are responsible for emptying and cleaning the storage room when moving out. You receive a separate key for the storage room with the same number as your room. All of your keys must be returned to the Housing Foundation when you move out. 
It is your responsibility to keep your room and any shared facilities clean and tidy. Remember that you must buy your own cleaning supplies. We suggest you set up a meeting with everyone who shares facilities with you at your residence in the beginning of the semester, in order to set up a cleaning schedule.
Please see our cleaning instructions and tips during your stay here.
You can also find a weekly, daily and monthly cleaning plan here.
If you live in a residence with shared kitchen/bathrooms/lounge, follow these guidelines:
Kitchen
Do your dishes as soon as you have finished cooking and eating.
Clean the counters (and dining table) when you have finished cooking and eating.
If you have used the stove or oven, clean it after every use.
Sweep the kitchen floor.
Dispose of your garbage in the assigned waste areas on a regular basis to avoid pests and bad odour and to keep your home environment healthy.
De-frost your freezing compartment and keep your fridge clean.
Descale your taps.
Remove food from the sink to make sure it doesn't goes to the drain.
Pour boiling water in the sinks to help prevent clogging.
Change the cloth often to make sure bacterias doesn't build up.
Toilets & bathrooms
The toilet and bathroom sink should be cleaned every day for your own sake.
The shower should be dried after each use. Wipe the water from the walls and floor in that way you will prevent limescale from buildig up. 
Please make sure you remove hair, lint, etc. from your shower and sink drains in the bathroom regularly, so they do not become blocked. A blocked drain can result in water damages which can be very costly. As a tenant you are responsabile for cleaning the drain during your stay. Remove the covering grid and pull out the hair by hand (use plastic gloves).There are guidelines of how to clean the drain in the Residence handbook for your accomodation.
Bathroom floors should be washed.
Descale your taps, shower room, and tiles.
Showers should be decalcified using a calcium remover (i.e. "Minus Kalk") every month or so.
Windows
Cleaning of the inside of the windows/balcony door
General Home cleaning:
Air your room three times daily for 10 minutes each to avoid dampness.
Make sure you dry up any water or liquids, so they do not cause damage to floors or cause flooding.
Carpets/floors should be vacuumed. Vacuum cleaners are usually supplied.
Vinyl floors should be washed.
Windows should be cleaned on the inside.
Departure cleaning: 
Please see our departure page.
Cleaning when you live in a shared room (A+B) 

When you live in a shared room with a roommate (A+B) you have to clean as mentioned in the guideline above.
When you are living in a shared room/apartment you have a joined responsibility for the shared areas, which means that if the areas are found insufficiently clean or damaged, both tenants will equally be charged therefore we recommend to talk to your roommate about cleaning and make a cleaning  plan. We highly reccommend to clean once a week (vaccum clean, wash the floor, wipe off dust, clean the toilet and shower, remove limescale, remove hair from drain, clean the kitchen). 
All accommodations have their own specific house rules and together with this document, they relate to your rental contract. The specific house rules can be found in our homepage under the housing options section.
We expect that all tenants follow the general house rules, as well as any specific ones related to their accommodation
The general house rules can be found here.
All residents are required to participate in cleaning of common areas and adhere to a cleaning schedule (particularly if you live in a dorm with common rooms). We suggest you set up a meeting with everyone who shares facilities with you at your residence in the beginning of the semester, in order to set up a cleaning schedule.
If you continuously fail to clean properly, a professional cleaning crew can ultimately be sent at your expense.
How to get rid of calcium 
Allowing calcium to build up in your kitchen/bathroom is not a pretty sight. Getting rid of calcium can be tricky because if you use harsh chemicals incorrectly, it can look worse. Here is a guide on how to remove calcium safely. 
How to clean the drain
Please follow the steps below to clean the bathroom drain in Nordre Fasanvej, Signalhuset and some other apartments. You will/might need the following materials: gloves, garbage bag and a Philips screwdriver
Step 1: remove or loosen the 2 screws in the corner of the grid (some grids have no screws)
Step 2: lift the grid up and remove it to reach the water trap
Step 3: now you can reach the water trap which stays deeper in the drain
Step 4: pull the water trap bowl out (continues on next page)
Step 5: you can see the hair and other builts-up which block the water trap
Step 6: place the water trap bowl in a nylon bag. Remove the built-up hairs and put them in the nylon bag (it is not allowed to put the flith in the toilet as it can cause further blockage!)
Step 7: clean the water trap well inside and outside (you can use the shower)
Step 8: place the water trap well in its place and fill it up with water in order to stop the drain smell. Finally place the grid back.
How to address odour
If you experience a bad smell coming from the drain or slow drainage, you must clean out the drain and poor a bucket of boiling water with "Klorin" into it.
If you still get an actual blockage; you may use 'afløbsrens' which can be bought at any supermarket. Pour half a bottle into the drain before you go to bed and leave it overnight. The drain will most often be clear for flow in the morning.
If these methods do not work, you are required to act as if the drains clog and you may not use the shower if the water pours out of the shower area in any way. Contact the Housing Foundation or your inspector if this happens. You are responsible for any damages to the floors which may occur because of such neglect.
Please check here for the detailed instruction on the website of Copenhagen municipality. We also provide some general information with examples below.
Bottles and cans should be returned to the supermarket where they have recycling machines for them. Remember that you pay a deposit for bottles/cans when you purchase them, which is returned to you when you return the bottles/cans. The bottles will be marked with the letter A, B, or C, which indicates their deposit value.
Other glass bottles can be disposed of in special containers. Newspapers, magazines, etc. are also recycled. Typically, where your trash containers are located, you will find specific containers for glass, cardboard, and paper.
Paper – Papir (in Danish)
All kind of clean papers like newspapers, flyers, envelopes, packing papers, etc. No cardboards or dirty food and cake paper packages.
Cardboard – Pap (in Danish)
All kind of clean cardboards and corrugated papers (boxes, packages). Please make them flat or take them apart to occupy less space. No pizza box, milk box or juice box. They have been in contact with food and are not recyclable.
Plastic (rigid & soft) – Plast (hård & blød) (in Danish)
All kind of nylon and plastic in the container like: bottles, cans, boxes, food packages, etc. All of them must be rinsed with (hot) water and be clean of food residues. No oil or sauce bottles which are not clean.
Metal
All kind of metal like: screws, hand tools (screwdriver, pliers, hammer, etc), tins, cans, etc. All of them must be rinsed with (hot) water and be clean of food residues.
BioWaste
All kind of food residues must be packed in the provided green bag (look for them in the common rooms): food, vegetable, fruits, jam, sauces, grease, oil, used kitchen paper towels, paper coffee filters, cut flowers, etc. No flowers with pot/soil.
Glass
Glass bottles and jars, etc. All of them must be rinsed with (hot) water and be clean of food residues. 
Batteries
All kind of used smaller size batteries. 
Electronics                                                                                                                 Electronic devices with power cable. No batteries please!
Residual (household) waste
Must be placed in firmly closed 15-20 liters household trash bags and placed into the garbage shaft at the end of the corridors (round door with handle). All kind of waste which cannot come in the above mentioned containers like dirty paper or nylon packages (contacted with food like cake packages), pizza trays and milk, yogurt, juice boxes, etc. Make these boxes flat to fit easier and occupy less space. Bigger waste must be folded, taken apart and put in household trash bags before they are thrown into the garbage shaft. Pizza boxes need to be folded into smaller size and put in trash bags as well. Otherwise they will block the garbage shaft which will very expensive to make it work again.
IMPORTANT! Handling of used/burned oil & grease. It is forbidden to pour the oil & grease in the sink/drain. It will block the drain. Less amount of oil & grease can be soaked by soft kitchen or toilet paper. Excess amount of oil & grease need to be poured in nylon trash bag (after it cooled down), closed well and thrown into the residual waste bin.
If you have questions, please contact your RA (Resident Assistant) or the Housing Foundation Copenhagen.
When sending or receiving mail and packages, always make sure that they are sent to your own address mentioned in your contract.  You can find your exact address in the beginning of the rental contract. Your letters and packages must, under no circumstances be delivered to Housing Foundation Copenhagen's office for later collection (Njalsgade 76, 4 B-0-34, DK-2300  København S).
Likewise, it is also not allowed to send your luggage etc. to Housing Foundation Copenhagen for collection e.g. along with collection of key.
Violation of the above will result in a fee for receipt, storage and delivery of DKK 100 per day per unit, minimum DKK 400.
We reserve the right to destroy packages and letters after one week if they have not been picked up at that time. Luggage etc. will be submitted to the lost property office after one week. 
Information regarding sending and receiving mail  with the public mail company Postnord can be found here: https://www.postnord.dk/en 
Similarly, many private providers such as UPS, DHL etc. have their own mailboxes or partner locations where you can collect packages.
Ordering Biodegradable Bags
The green biodegradable bags can be ordered for free on Copenhagen's Municipality's website. The website is, unfortunately, in Danish. But we have made a small guide to help you successfully order the bio bags.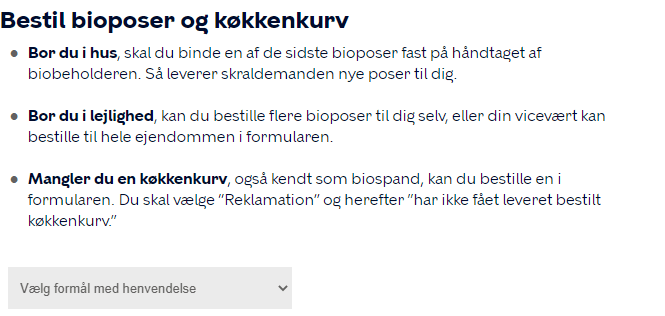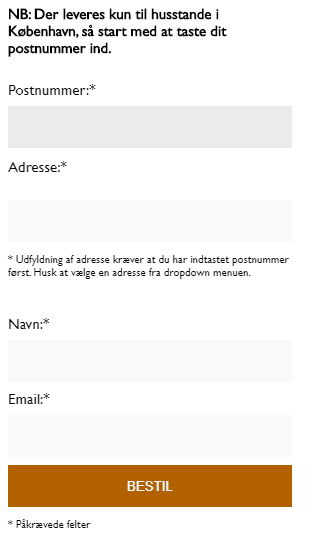 Step 1: Purpose 
Click on 'Vælg formål med henvendelse' (choose purpose for inquiry).
Step 2: Amount of bags
Choose 'Bestilling af bioposer' (Order new bio bags)
And 'Bestil (4) ruller med bioposer' (Order 4 rolls of bio bags for private use). 
Step 3: Enter your address
Postnummer = 'Zip code'.
Adresse = 'Address'. When you have entered your zip code you will be able to choose your address in the dropdown menu.
Navn = 'Name'.
Email = Please enter your email. 
All boxes with an * are required information. 
You are not permitted to have anyone reside in the room you are renting. You are welcome to have guests for short stays only (no more than 1 week).
If you are sharing an apartment with others, you must have an agreement with all flatmates first. Guests shall not sleep in the common space, nor take anyone else's room—they must sleep in the host's room. Generally, the foundation discourages having guests in shared apartments as it could impinge on your roommate's space and certain buildings have age restrictions. 
 You are not permitted to sublet your room or advertise it on social media or any other portals. 
No noise/partying
You are required to keep noise to a minimum level in order to create a good study environment for your fellow tenants. We also ask that you respect your neighbors and remind you that according to the Danish law loud music etc. is not allowed after 10:00 pm on weekdays and midnight on weekends. It is important to remember that you live in a regular residential area and not on a secluded campus. If you have any guests please be considerate to the other people in your residence, and respect them if they ask you to be quiet.
Violation of house rules
If you violate the house rules at your accommodation you will receive a first written warning. 
If you violate the house rules again you will receive a second written warning. When you receive a second warning both you, the University of Copenhagen and your home university will be informed about the incident(s) that resulted in the warning. After three written warnings the Housing Foundation will consider terminating your rental contract effective immediately and evict you from the residence.
Housing benefit ("Boligstøtte")
Some international tenants (students only) can apply for governmental housing subsidy via 'Udbetaling Danmark', which is a government office. Each application is processed and evaluated individually by 'Udbetaling Danmark'. Check if your residence permit allows you to receive subsidies by contacting the Danish Immigration Service. Please have in mind that it is only possible for European Citizens to apply for housing benefit.
Students who receive scholarships, grants, or re-imbursements may not be eligible for the the housing benefit.
You can find more information and apply for housing subsidy here
And you can find information about the practical matters of moving to Denmark here.
The Housing Foundation Copenhagen cannot assist you in your application.
Please find more information about eligibility and application on www.borger.dk using you 'NemID' and your CPR number.
You must meet the following criteria to receive housing benefit:
You live in a 'studio room' (or own apartment) with private kitchen/kitchenette and bathroom. Thus, if you live in a shared apartment or a studio room in a hall of residence with shared kitchen and/or bathroom, you cannot apply.
Your rental contract lasts for more than 6 months. If you apply for housing subsidy and state that you are renting for more than 6 months and it turns out not to be true, or if you shorten or terminate your tenancy contract, you will be required to pay the entire subsidy back to the Danish government.
You inform 'Udbetaling Danmark' when you move (or in most cases, leave the country). They do not automatically know that your contract has ended.
Any applicant must apply via the online application system. You log onto this system at www.borger.dk using 'NemID'. You cannot get a 'NemID' without having a CPR number, so you need to have that in order to apply.