If everything in your accomodation is left in an acceptable condition after your stay ends, your full deposit will be returned to you. Note that it can take up to 8 weeks from when your contract ends until you get your deposit back.
Return of deposit to a credit card
If you made the payment by credit card, we can return your deposit directly to the latest used credit card account after your stay ends, and you save a fee that we charge for returning the deposit via bank transfer.
The deposit or other returns can only be returned to the latest used credit card of your last payment. It is important that your credit card is still valid up to 6 months after your contract end date.
NB! The refund of your deposit will only consist of your deposit, not the fee charged by the bank or QuickPay.
Return of deposit via bank transfer
If your credit card isn't valid, or other circumstances make it impossible for us to return the amount directly to your card, we charge a fee (see list of fees). When the system is unable to return the deposit to your credit card, a new step in your workflow will appear (The "Bank Account step"). In this step you have to fill out all the information in order for us to return your deposit via bank transfer. If the information you give us is incorrect or insufficient, we charge an additional fee for contacting you again.
In order to have your deposit returned, you must notify us whether you wish to receive it to the credit card you made your last payment with or via bank transfer. You notify us in the online booking system under 'Account equalization' and 'Returning your deposit'. 
Choose your selected return method and save the page. If you have chosen the option of bank transfer, please wait until a new section opens up allowing you to enter your information.
Please refer to the steps in the Booking Manual if you have any questions.
If for some reason we are unable to return your deposit to your credit card account, we will return it to you via bank transfer and will be forced to charge the associated fee.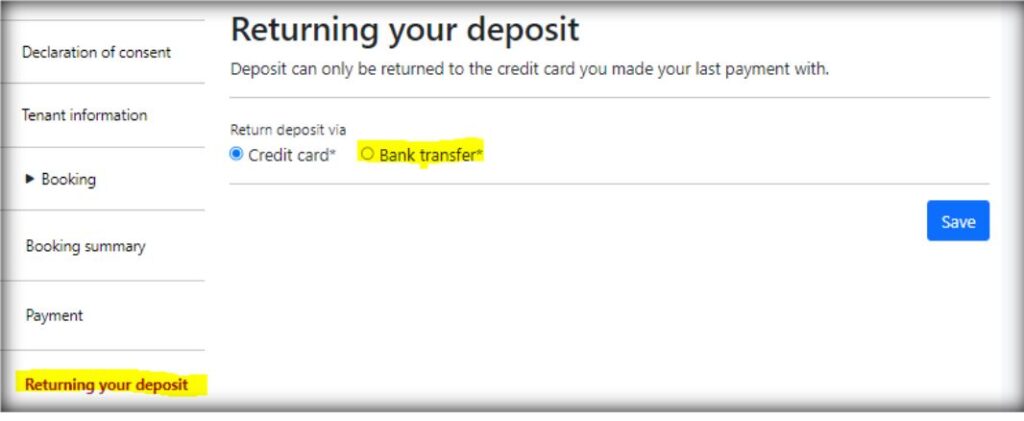 Deductions from your deposit
If for some reason we have to clean or replace anything in your room, the deposit will not be returned to you in full. For those living in shared rooms, any repairs, replacements, or additional cleaning needed after your departure will be deducted equally from all students whose contracts end on the exact same date – regardless of departure date. This applies to any common areas of a shared apartments as well. If, however, you agree that it is only one person that is responsible for the damage or negligence, please make sure to notify us in a letter, signed by all parties.
However, it is the departing tenant(s) who must ensure that the apartment is clean in all areas at the end of the contract period.  If the departure cleaning has not been carried out, it is the departing tenant(s) who will get a bill.  Therefore we strongly recommend that you have cleaning tasks well organized from the beginning of your co-tenancy. It can be too late – and expensive – to postpone the cleaning policy discussion until someone is departing.
Your apartment/room should undergo a thorough cleaning before you depart, and there should be no indication of build-up.
If any area is left unclean, you will be charged the same cost that our cleaning company charges the Housing Foundation for their services. Denmark is a high-income country so the cost of cleaning is comparatively high to other countries. On top of this, it can also take the cleaners extra time and effort to address build-up, so the cost will reflect that as well.
It is normal for our rooms to have some extend of wear & tear as it is rented out  often and in short periods a time. Therefore we do not expect of our tenants to refurbish the residences upon move-out.
 Having said this you will be charged for any broken items due to incorrect use. The price of the damage will be visible in your online housing account latest 14 days after your move-out inspection. The price is not always visible in the move-out report.