Where do I return my keys?
You should return your keys and laundry cards to the place where you collected them from.
We are located at The University of Copenhagen's South Campus. Click here to find a campus map
The Housing Foundation Copenhagen Office
Adress: Njalsgade 76, 4B-0-34
DK-2300 København S
NB. Due to covid-19 the keys that were picked up in our office must be returned to our mailbox outside our office.  Please read about the mailbox below. 
The TDC Homeboxes for internet connection should NOT be returned – please leave it in the room/apartment for the next tenant to use.
If the tenancy is not vacated in time or the keys are not returned, we reserve the right to bill the arriving tenants delay expenses to you: Hotel, storage of luggage, transport and the likes. Furthermore, you will be charged a late move out fee on on months rent. 
Please return your keys in our mailbox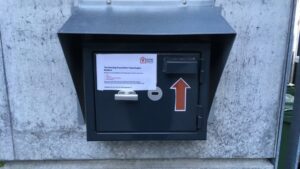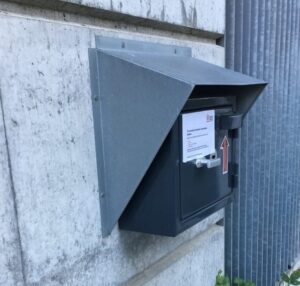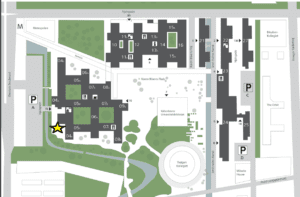 The mailbox at our office at Njalsgade is located to the right of the revolving entrance door (press on the map and where the yellow star is placed is the mailbox located). Please pass the dumpsters and then you will be able see a mailbox on the wall.
Make sure you put everything in an envelope or a transparent plastic bag containing:
Name
Address and name of accommodation
Room number
All keys and laundry card/laundry chip
Please ensure that key sets are complete and identifiable (tagged). Only that way can we trace these keys back to you, so you avoid a late-return fee. Please make sure to use a small envelope or a plastic bag since the slot is quite small.
Other questions ? Please send us an email