If everything in your residence is left in an acceptable condition when you move out, your full deposit will be returned to you. Please note that it can take up to 8 weeks from when your contract ends until you get your deposit back.
The deposit return is subject to deductions following the results of the inspection, unreturned or lost keys, or any damages caused during your stay.
Returning

deposit to a credit card
The option to have your deposit returned to your latest used credit card will be active if:
The card is still valid and will continue to be valid 6 months after you move out
The initial amount you paid was equal to, or more, than the deposit.
NB! We cannot change the credit card information. We can only return the deposit to the exact card you used to pay it with, if you meet the requirements above.
You must notify us that you wish to have your deposit returned to your credit card in the booking system:
Go to the 'Account equalization' section of the flow
Click on 'Returning your deposit'.
Tick off the box saying 'Yes'
Remember to click 'Save'.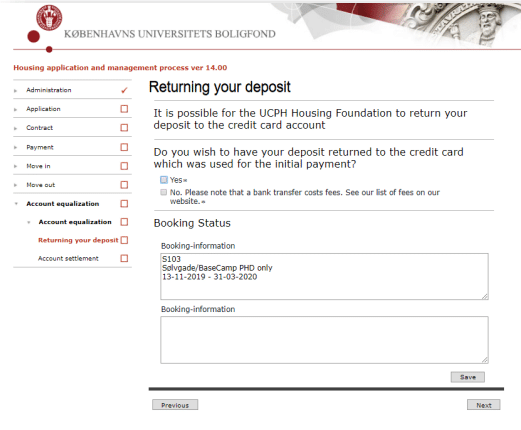 Returning your deposit to a bank account:
If you do not wish to have the deposit returned to your credit, or if you do not follow the requirements above, you can choose to have your deposit returned to a bank account instead. 
You then have to choose the bank account option in the booking system, and fill in your specific bank account information. There is a fee for returning your deposit via bank transfer.
Bank account details for the Housing Foundation
Bank: Danske Bank
Registration number: 4180
Account number: 10364183
IBAN: DK9530000010364183 (BIC) / SWIFT: DABADKKK
Account holder: Housing Foundation
Bank Address
Danske Bank
Erhvervscenter København
Holbergsgade 2
1057 Copenhagen K
Time frame for bank transfer
Please be aware that the transfer procedure might take several days; so make sure you take care of everything well in advance so we have the payment in time. Making an international money transfer can be costly since the involved banks often add extra fees. You are responsible for paying these.
Please send a receipt to [email protected] if it is close to your payment due date to
Other questions ? Please send us an email