In Denmark, bottles and cans should be recycled in the return-machines found in most supermarkets. A deposit price is included in all bottles and cans upon purchase and that amount can be accessed upon return. All other glass bottles should be recycled in specific containers. Newspapers, magazines, etc. are also recycled. These specific containers can be found in the garbage area of your dorm.
Paper – Papir
All clean paper. Newspapers, flyers, envelopes, etc. No dirty paper or card board.
Cardboard – Pap
All clean cardboard and corrugated paper. Please take them apart so they take up less space. No cardboard that have been in contact with food.
Plastic (hard & soft) – Plast (hård & blød)
All kinds of nylon and plastic. Ex. bottles, cans, boxes, food packages, etc. All should be rinsed with (hot) water and cleaned of food residues.
Metal
All kinds of metal like: screws, hand tools, tins, cans, etc. All of them should be rinsed with (hot) water and cleaned of any residue.
BioWaste
All food waste must be discarded in the provided green bags. They should be found in the common room. The bags are for food, jam, sauces, grease, oil, used kitchen paper towels, paper coffee filters, cut flowers, etc. No flowers with pot/soil. Scroll down to find a guide on how to order the bio-bags for free.
Glass
Glass bottles and jars, etc. All should be rinsed with (hot) water.
Batteries
All kinds of smaller used batteries.
Electronics
Electronic devices with power cables. No batteries!
Residual (household) waste
Must be discarded in firmly closed 15-20 liter trash bags and thrown in the garbage chutes at end of the corridor. Any waste that does not fit into the above-mentioned categories. Non-bio waste that has been in contact with food. Any larger pieces, like pizza boxes, must folded or taken apart so they fit through the chute. A blocked chute is expensive to clean.
NB!
Handling of used oil and grease. It is forbidden to pour oil or grease down the sink. Excess amount of oil or grease needs to be poured in a trash bag (after it has cooled down), closed and thrown in the residual waste bag.
For more detailed information, visit the website of the Copenhagen Municipality.
If you have any further questions, please contact the RA at your dorm or the Housing Foundation.
How to: Order Biodegradeable Bags
You can order the bio-bags for free on this webpage, using the guide below:
Step 1 – Purpose
Click on "Vælg formål med henvendelse" (choose purpose for inquiry)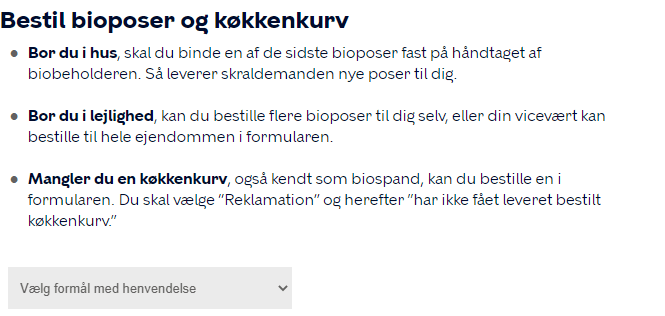 Step 2 – Amount of Bags
Choose "Bestilling af bioposer" (ordering of bio bags)
And "Bestil (4) ruller med bioposer" (Order 4 rolls of bio bags for private use)

Step 3 – Enter your address
Postnummer = Zip Code
Adresse = Address. When you will out the zip code you will be able to choose your address from the drop down menu.
Navn = Name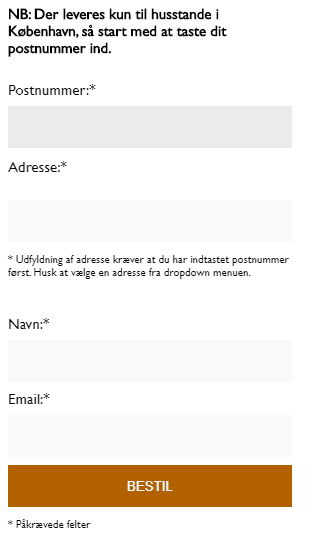 Other questions ? Please send us an email