Literally 'Vendsyssel Street' Apartments
| | | |
| --- | --- | --- |
| Shared rooms (with roommate) | | |
| | | Apartment suitable for a couple (size: 40-44 m2); consists of bedroom, bathroom, and living room with kitchenette and balcony or garden access* |
| | | Apartment (size: 40-44 m2); consists of bedroom, bathroom, and living room with kitchenette and balcony or garden access* |
| | | |
*Two apartments on the ground floor (apartments in the middle to the left and middle to the right) have access to the garden.
Distance to university locations:
| | Method of transport & transport time |
| --- | --- |
| | – c. 20 mins by bike – c. 30 mins by public transport |
| | – c. 10 mins by bike – c. 16 mins by public transport – c. 30 mins on foot |
| | – c. 20 mins by bike – c. 30 mins by public transport |
| | – c. 30 mins by bike – c. 35 mins by public transport |
| | | |
| --- | --- | --- |
| | | |
| | | Flintholm station (c. 15 mins walk) for metro M1 and M2 (or one stop by train from Grøndal station—see below) |
| | | – Grøndal station (c. 8 mins walk) for F trains – Flintholm station (c. 15 mins walk or one stop from Grøndal station) for C, F, H trains |
| | | |
Map and address:
Vendsysselvej 39
2720 Vanløse
The numbers in the collum on the right are the same as in the kommunes database: 
st-tv  =  0.1
st-mf-tv=  0.2
st-mf-th  =0.3
st-th = 0.4
1-tv = 1.1
1-mf-tv = 1.2
1-mf-th = 1.3
1-th = 1.4
2-tv = 2.1
2-mf-tv= 2.2
2-mf-th = 2.3
2-th = 2.4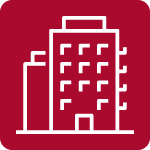 The Vendsysselvej Apartments are situated in a suburban, but still quite central location on the border of the Frederiksberg and Vanløse neighborhoods. Since each apartment consists of a living room and bedroom, they are ideal for couples or individuals who wish to have some space for themselves. Their charming Scandinavian design with wooden floors and minimalist furniture makes these apartments quite cozy. Each apartment has access to a private balcony (or, on the ground floor, to a small garden instead), providing a nice outdoor space for relaxing in the sun or socializing with friends.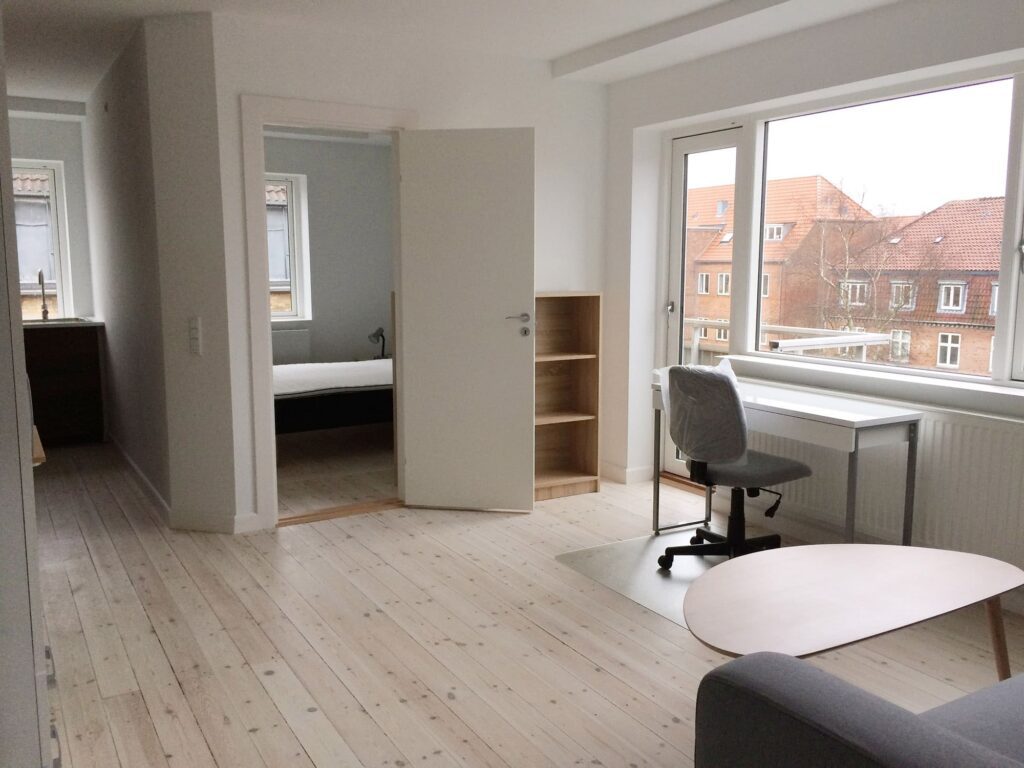 The residence is situated in the northwestern part of Copenhagen, on the border of the Frederiksberg and Vanløse neighborhoods, in a quieter residential area. Nearby is Godthåbsvej, a bigger road leading to Frederiksberg's centre and even the inner city. It offers a great variety of cafés and shops, as well as a quick and direct cycle route and frequent busses into town. The nearby Valby and Frederiksberg areas offer many more shopping and culture opportunities, as well as several parks.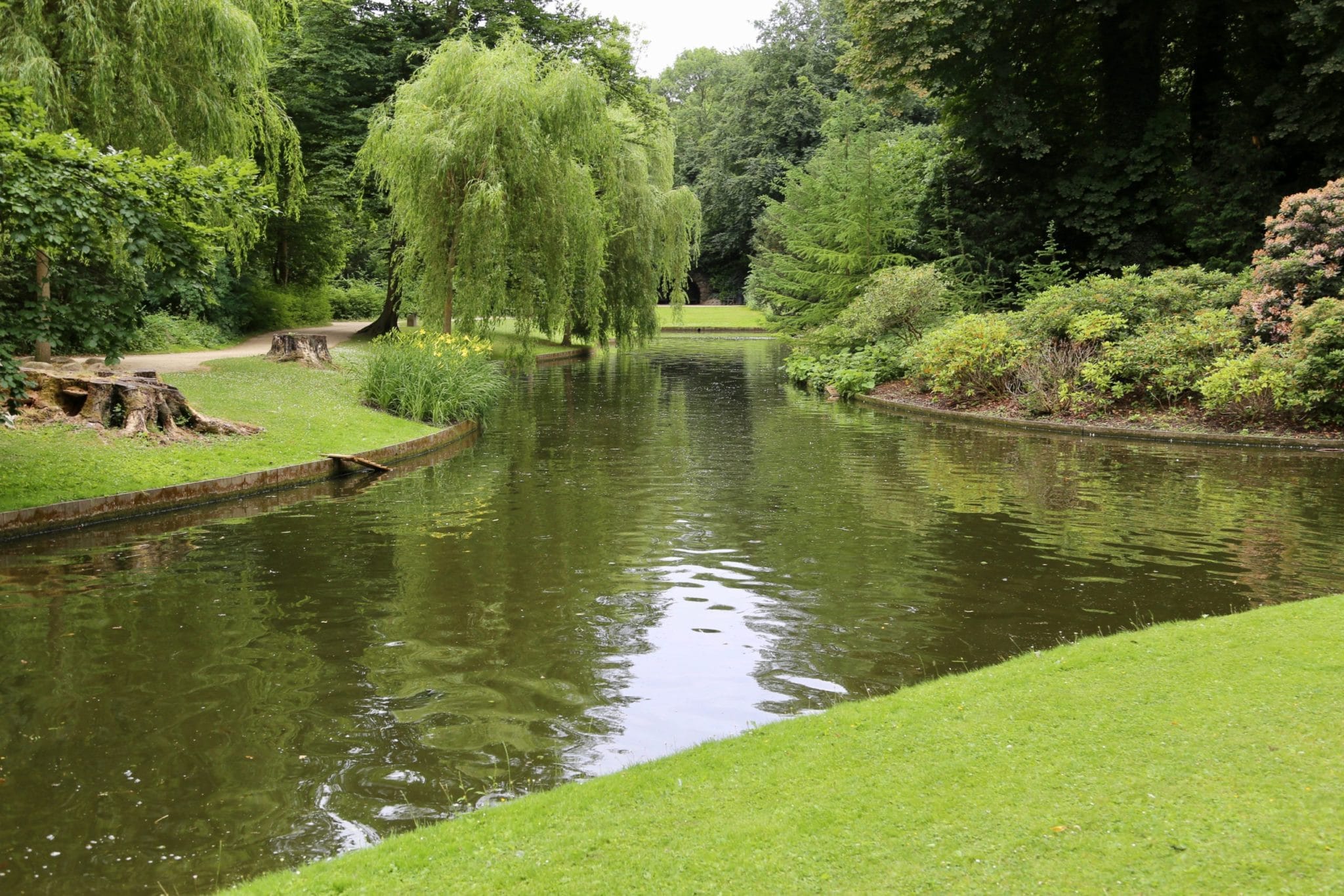 Due to its location between Vanløse, Frederiksberg, and also Bellahøj, there are many opportunities for sports and culture. Bellahøj's swimming pool is in easy cycling distance. The long Grøndals Park, just down the road, can be used for a short walk or run down to the local lake Damhussøen—or for a longer run all the way down to the coast at Valby. Nearby Godthåbsvej offers a great variety of cafés and shops, and there is a large shopping centre at Valby station, only 15 minutes' walk away.
In central Frederiksberg, shops, cafés, and pubs are abundant and there are several libraries, music venues and museums. The large park Frederiksberg Have is a lovely place for a walk, and as it also contains Copenhagen's zoo, often the elephants can even be seen from the regular park.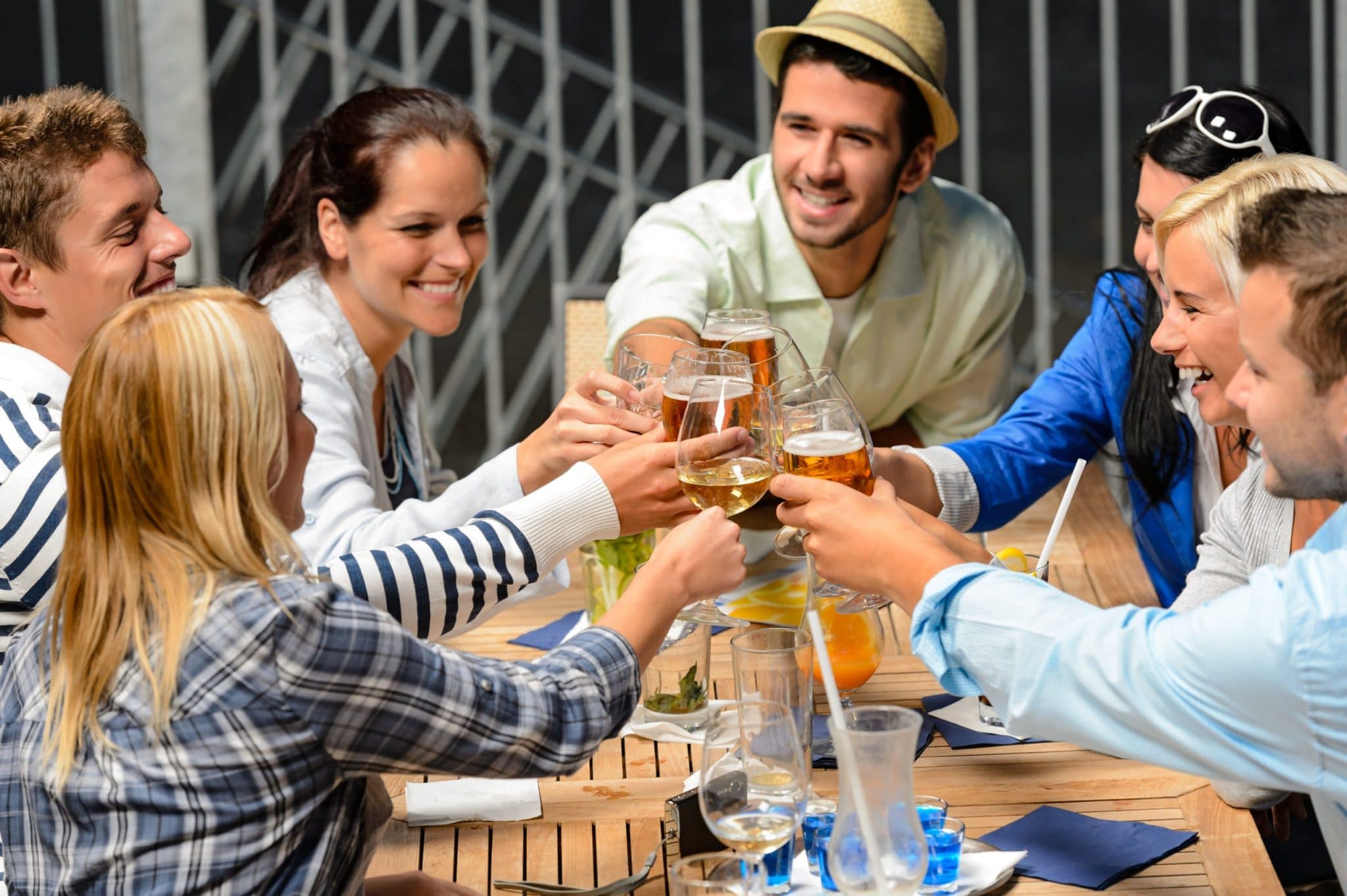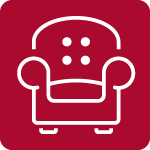 Please note: We never provide bedlinen, duvets, or pillows. Please bring or buy what you require. We also do not provide kitchen items (e.g. pots, pans, plates, etc.), however you will often find that previous tenants have left kitchen items for you to use. Therefore it is often worth moving in first and checking this before buying kitchen items.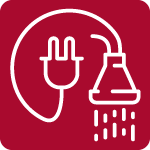 Many utilities are included in the rent. However, you pay for the internet. Please see your rental contract for details.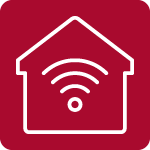 An internet connection is provided and you pay for it as a utility.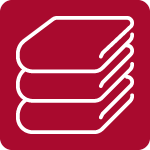 Please use one of the many laundromats in the area.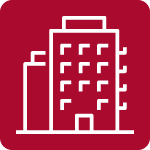 All apartments at Vendsysselvej have their own storage room. The storage room is included in the rental contract and covered by your rent. That means you are responsible for emptying and cleaning the storage room when moving out. You receive a separate key for the storage room with the same number as your apartment. All of your keys must be returned to the Housing Foundation when you move out.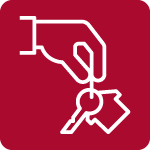 Please collect keys from the Housing Foundation office during office hours.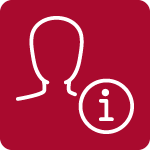 For problems taken care of by the Housing Foundation 's inspector service (damages, furniture, inspections) please contact inspector Attila during office hours on Tuesdays & Thursdays between 8am and 10am on telephone: +45 50525096 or email him at inspector.attila@gmail.com. Please add a picture indicating the issue, in case you send an email.