'The Østerbro dormitory'—literally 'The East Bridge dormitory
| | | |
| --- | --- | --- |
| | | One half of a studio flat shared with a roommate of the same gender, with bathroom and kitchenette (two cooking plates and a small refrigerator), 17-26 m2 |
| | | Mini apartments for a couple, with bedroom, living room, private kitchenette and bathroom |
| | | Studio flats with private bathroom and kitchenette (two cooking plates and a small refrigerator), 17-26 m2 |
| | | |
Distance to university locations:
| | Method of transport & transport time |
| --- | --- |
| | – c. 15 mins by bike – c. 20 mins by public transport |
| | – c. 15 mins by bike – c. 25 mins by public transport |
| | – c. 10 mins by bike – c. 20 mins by public transport – c. 30 mins on foot |
| | – c. 25 mins by bike – c. 25 mins by public transport |
| | | |
| --- | --- | --- |
| | | |
| | | Poul Henningsens Plads station (c. 6-8 mins walk) for metro M3 |
| | | Svanemøllen station (c. 6-8 mins walk) for A, B, Bx, C, E trains |
| | | |
| | | |
Map and address:
Strynøgade 5
2100 Copenhagen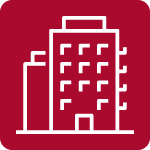 Student video on Østerbro kollegiet (Video produced by Olivia Parkinson)
Østrebro kollegiet is a large dormitory located in the popular neighbourhood of Østerbro, a central residential area that features many shops, cafés and parks. As a former industrial building, the dorm has a slightly functional inner-city chic feel about it, while its central urban location also means that transport options to all KU campuses are excellent. Since all residents at Østrebro kollegiet live in private studios, this dorm is best suited to those who enjoy having their own space—or, given the many shared rooms available, also for those who want to reduce the rent by living closely with a roommate. Socialising is still made very easy, thanks to the common rooms on each floor—and the lovely large roof terrace, perfect for hanging out with friends (but please note: playing music is not allowed on the terrace).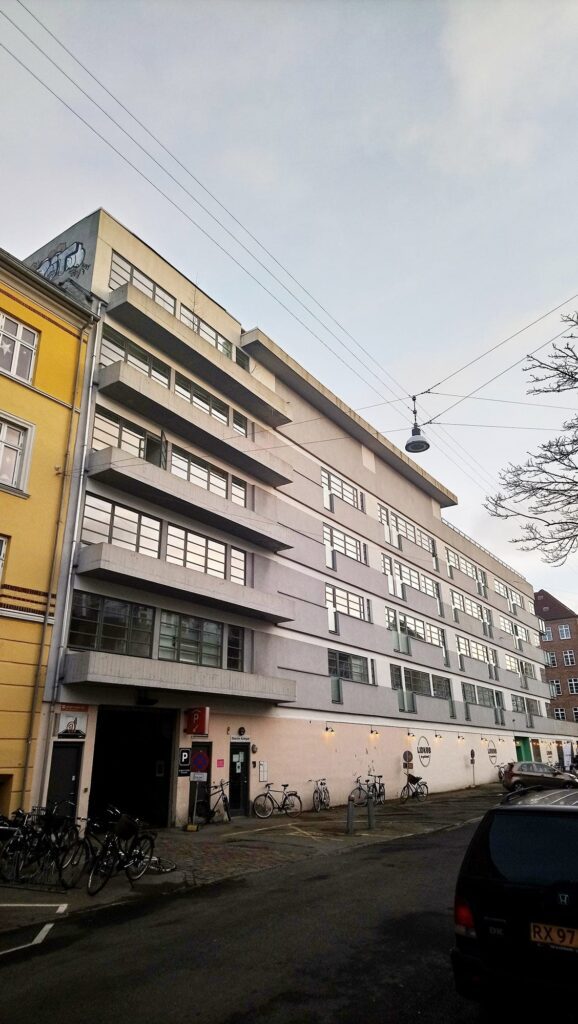 Østrebro kollegiet is situated in the synonymous central neighborhood of Østerbro, one of the most popular residential areas of Copenhagen, offering a great variety of cafés, shops, gyms, etc. The dorm is close to Østerbrogade, one of the city's main streets, which features excellent shopping and opportunities as well as the Park cinema. The large park Fælledparken is in easy walking or jogging distance. Transport options are excellent, and access to the inner city is quick and easy. The vibrant nightlife scene of Nørrebro is only a short cycle away.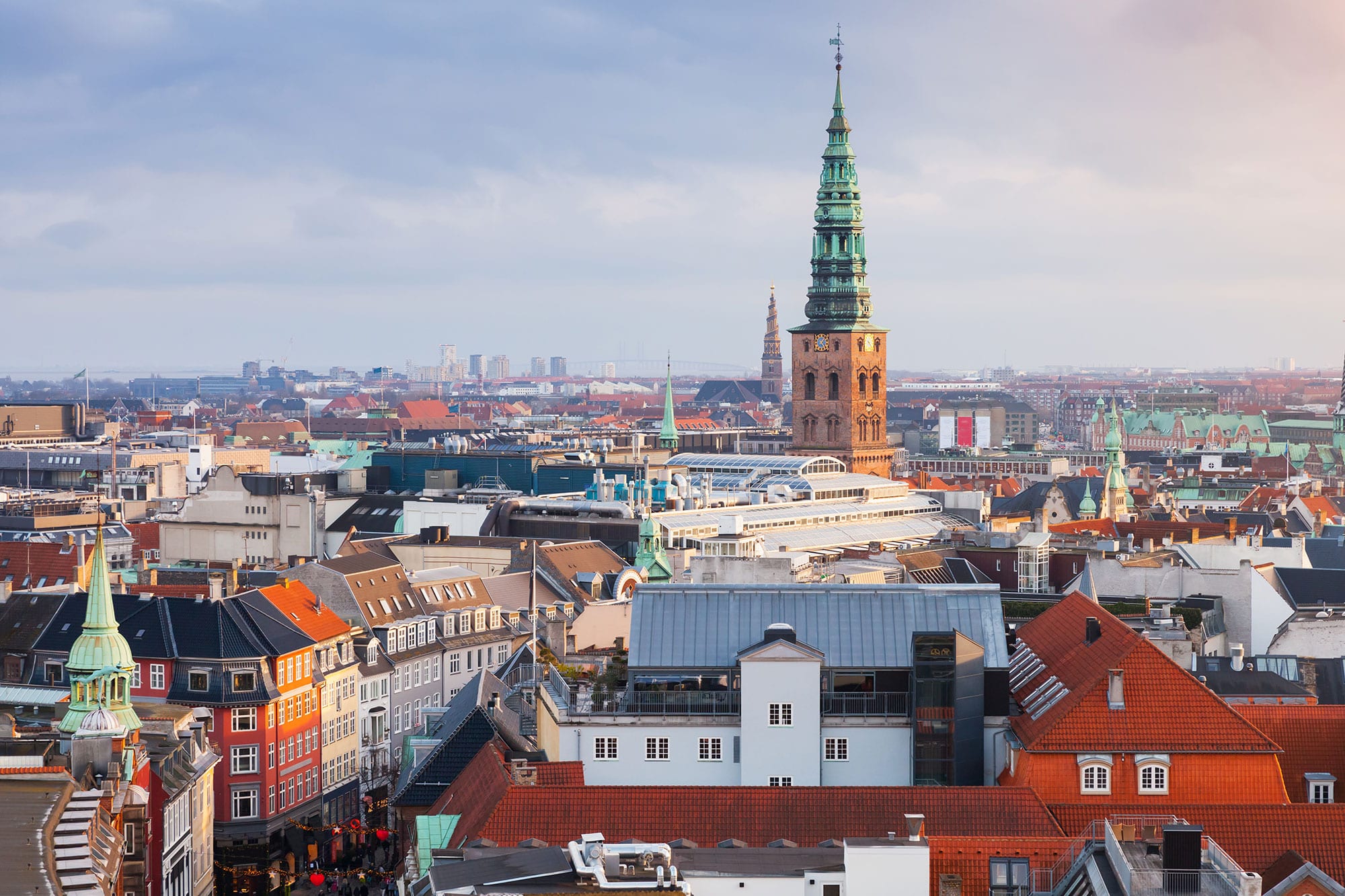 The large park Fælledparken is just minutes away, making it easy to go for long and short walks and runs—or just for sitting in the sun with friends. The beach at Svanemøllestranden is also easily accessible on bike or even on foot, making a quick swim very easy. The busy street of Østerbrogade is around the corner, and features many restaurants, cafés, shops, and even The Park cinema. A few minutes' cycle or bus gets you into Nørrebro, the city's most popular area for restaurants, bars, and live music. But there is also much to see there, for example the famous graveyard Assistenskirkegården, where celebrities and musicians are traditionally buried and the locals go for walks. Or the Red Square (Røde Plads), a hub for multicultural encounters and political rallies, where also many sports and music events take place.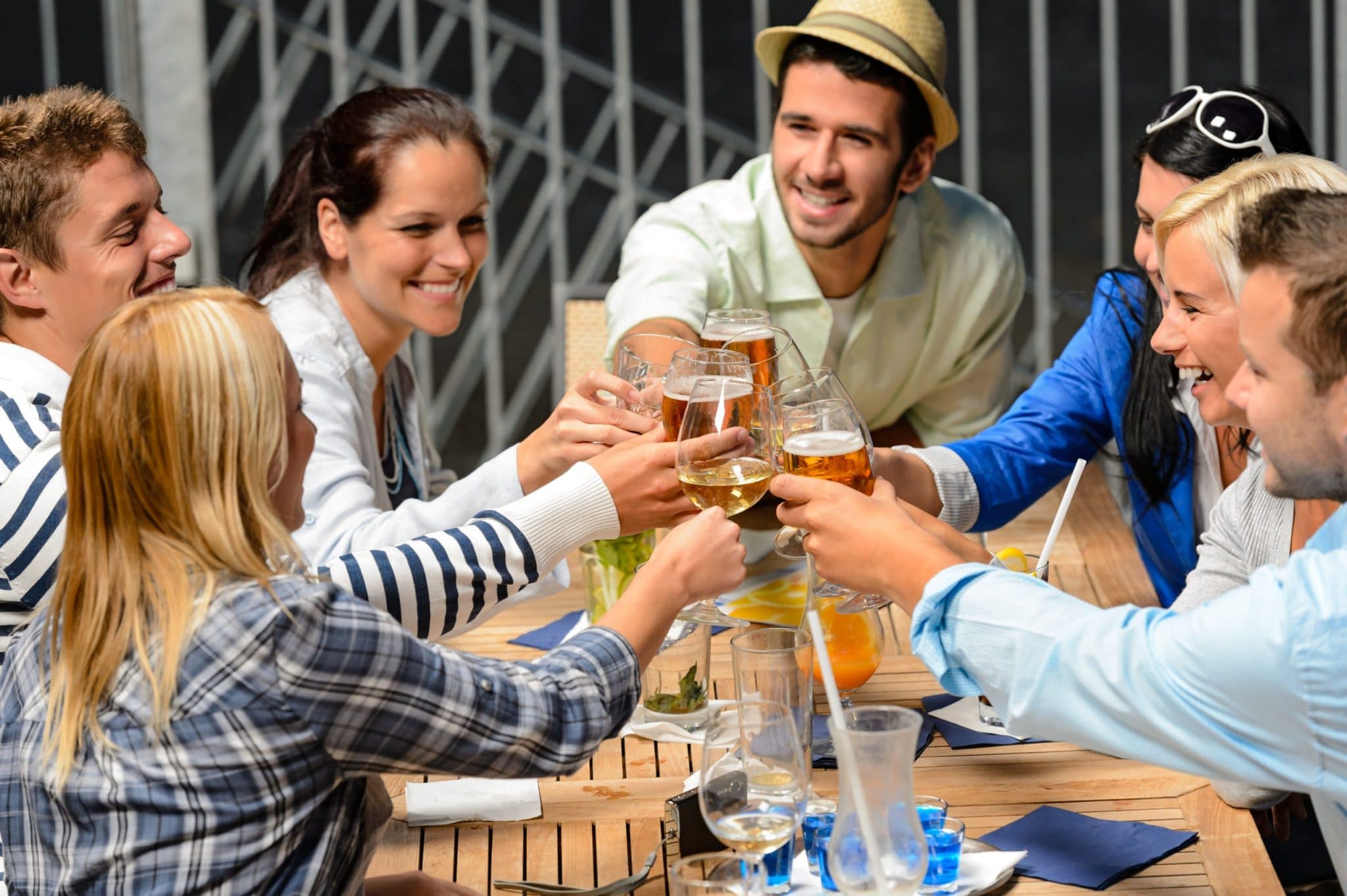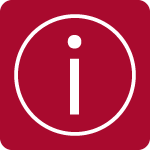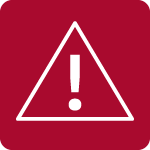 All residents are responsible for keeping the common kitchens and the roof terrace clean and tidy and being considerate towards others. After a party, all common premises, including the elevators, washrooms, stairways and hallways, must be cleaned. Importantly, it is forbidden to play music on the roof terrace, as this disturbs the neighbours. When there are social gatherings on the roof terrace, please make sure you are considerate towards residents of the area and residents of Østerbro Kollegiet. Note that authorities dictate that there is a maximum limit of 50 people in a common kitchen.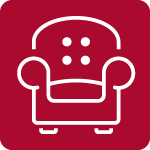 The inventories for the single rooms and the shared rooms are here.
Please note: We never provide bedlinen, duvets, or pillows. Please bring or buy what you require. We also do not provide kitchen items (e.g. pots, pans, plates, etc.), however you will often find that previous tenants have left kitchen items for you to use. Therefore it is often worth moving in first and checking this before buying kitchen items.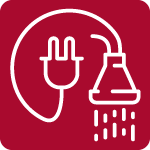 Many utilities are included in the rent. However, you pay for laundry and internet. Please see your rental contract for details.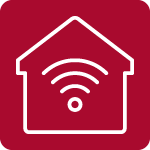 Internet is provided and paid for as a utility.
Østerbro Kollegiet has wireless internet for the residents. Network name and password for the WIFI is posted in the halls, or you can ask your neighbors.
In some rooms it is also possible to connect through the wall plug using a patch-cable. If you have the cable option and want to use it: Please make sure you plug into the WAN-gate – not the LAN-gate as you risk blocking the connection for other cabled users.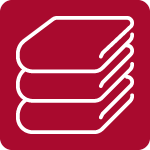 Laundry facilities are available in the building. Laundry is not included in the rent.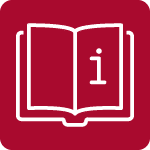 House Rules & Residence Handbook
If you are staying at Østerbro Kollegiet it is mandatory to read and familiarize yourself with the house rules. Due to the fact that some residents have continuously failed to comply with these house rules, a security guard tours the kollegium most nights to secure that the house rules are being followed. 
For all manner of relevant housing information for Østerbro Kollegiet, e.g. on lost keys, laundry, internet, etc., please see the Residence Handbook.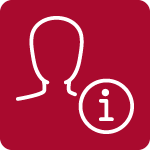 Residence Assistant & Inspector
Residence Assistant: Our RA at Østerbro Kollegiet is Konstantinos Papanikos who lives  in Room 403. He can help you with residence related matters like internet, mail, general questions etc.
email:  rapapanikos@gmail.com
Phone +45 91 44 32 50
To get help you can visit his room at 11.30 am-12.30 on sundays. 
The RA can not pick up or return keys on your behalf. 
Inspector: If you experience any practical problems in your building please contact the inspector, Kenneth during office hours: Mondays and Thursdays, 14.00-16.00. You can call +45 50441017, or send him an email (including a photo of the problem) to kennethbeyer@live.dk.
In case of emergency(water damage etc.) please call Kenneth immediately on +45 50441017.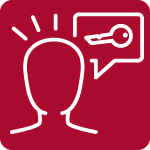 Locked out: If your RA or the Housing Foundation Inspector is available at Østerbro Kollegiet they can open your room door. For opening a door between 16:00 and 8:00, a fee of DKK 300 will be applied to your Housing Foundation account. If help at your residence is not available, contact the Housing Foundation office during office hours. Be aware that if you lock yourself out more than once in a 14 days period a fee of DKK 300 will be charged every time the RA or Housing Foundation Inspector has to open your door.
For emergency lock out please read here.
If your key is permanently lost: Contact the Housing Foundation office.